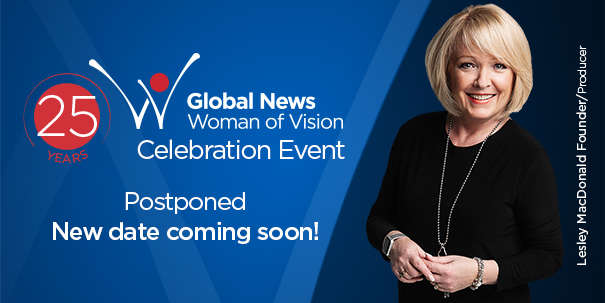 POSTPONED
Woman of Vision 25th Anniversary Celebration Event
In response to the now official Global Pandemic of the COVID-19 virus and in accordance with guidance from Alberta Health Services, we have made the difficult decision to postpone the 2020 Celebration event scheduled for April 8th.
Our top priority is to protect the health and safety of our recipients, our guests as well as our performers, contractors & volunteers.
We appreciate your cooperation as we navigate this situation; we will keep you informed through the event website and electronic communications as more information becomes available.
We hope to have a new date for our event soon. For those of you who have bought tickets, your seats will be transferred to the rescheduled event and we will work with you to resolve any concerns as we move forward.
When it is safe to do so, we look forward to sharing an even deeper, more impactful event that celebrates the spirit and resiliency of our community. We look forward to seeing you then.
Any questions about the event should be directed to womanofvision@buksa.com.
Love, laugh, stay safe and stay well.
Lesley MacDonald
Founder, Producer
Global News Woman of Vision
Latest Recipient
Brenda Lucki
Canada's first permanent female Commissioner
She's considered a cop's cop with an innate ability to connect with the rank & file. But Brenda Lucki has faced unprecedented challenges as head of the RCMP. Lesley MacDonald has the story of this month's Global News Woman of Vision.