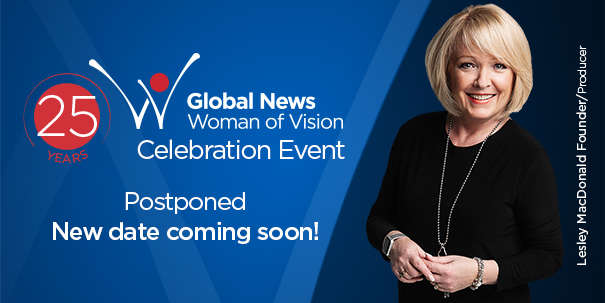 POSTPONEMENT UPDATE
Woman of Vision 25th Anniversary Celebration Event
I would like to start with a huge thank you to everyone – our sponsors, recipients, and ticket buyers – for your patience and understanding as we navigate these unchartered waters brought on by this global pandemic. I am filled with gratitude for this incredible community and for your continued support!
Having to postpone our 25th Anniversary Woman of Vision Celebration just one month before the big event was heartbreaking. But I want to assure you that plans for an even more impactful event are still very much alive, and we are doing our due diligence behind the scenes to ensure that a new date will be booked as soon as it is safely possible.
One of the many things we are excited about is how technologies are quickly developing to accommodate online events. Of course, Woman of Vision will always be a 'live' in-person event – nothing will ever replace that exhilaration, energy, and inspiration we get from being in the room together. But we are looking at incorporating an addition digital component to our live program that will create an enhanced experience for the audience while also helping us to share that inspiration with larger, broader audiences.
For those of you who have already purchased tickets, please know that your seats will be transferred to the rescheduled event and you will be placed in a queue for better seating. If you have any concerns or questions, these can be directed to [email protected]. Please feel free to contact me directly as well at [email protected].
In the meantime, our regular monthly Woman of Vision features are on hold during this time of social distancing. But we do have plans to launch a special online anniversary series featuring some of our most inspirational recipients of the last 25 years – where are they now and what can they teach us about resilience?
Stay tuned!
Stay Safe and Stay Well! We're in this together.
Lesley MacDonald
Founder, Producer
Latest Recipient
Brenda Lucki
Canada's first permanent female Commissioner
She's considered a cop's cop with an innate ability to connect with the rank & file. But Brenda Lucki has faced unprecedented challenges as head of the RCMP. Lesley MacDonald has the story of this month's Global News Woman of Vision.